Lot 1000 (D) 1,900.00 EUR


(sold)


Lots and Collections Picture Postcards Topics
[{"image":"https:\/\/cdn.philasearch.com\/A00002\/E32016\/3201600032.jpg","thumb":"https:\/\/cdn.philasearch.com\/A00002\/E32016\/3201600032.jpg"},{"image":"https:\/\/cdn.philasearch.com\/A00002\/E32016\/3201600032a.jpg","thumb":"https:\/\/cdn.philasearch.com\/A00002\/E32016\/3201600032a.jpg"},{"image":"https:\/\/cdn.philasearch.com\/A00002\/E32016\/3201600032b.jpg","thumb":"https:\/\/cdn.philasearch.com\/A00002\/E32016\/3201600032b.jpg"},{"image":"https:\/\/cdn.philasearch.com\/A00002\/E32016\/3201600032c.jpg","thumb":"https:\/\/cdn.philasearch.com\/A00002\/E32016\/3201600032c.jpg"},{"image":"https:\/\/cdn.philasearch.com\/A00002\/E32016\/3201600032d.jpg","thumb":"https:\/\/cdn.philasearch.com\/A00002\/E32016\/3201600032d.jpg"},{"image":"https:\/\/cdn.philasearch.com\/A00002\/E32016\/3201600032e.jpg","thumb":"https:\/\/cdn.philasearch.com\/A00002\/E32016\/3201600032e.jpg"},{"image":"https:\/\/cdn.philasearch.com\/A00002\/E32016\/3201600032f.jpg","thumb":"https:\/\/cdn.philasearch.com\/A00002\/E32016\/3201600032f.jpg"},{"image":"https:\/\/cdn.philasearch.com\/A00002\/E32016\/3201600032g.jpg","thumb":"https:\/\/cdn.philasearch.com\/A00002\/E32016\/3201600032g.jpg"},{"image":"https:\/\/cdn.philasearch.com\/A00002\/E32016\/3201600032h.jpg","thumb":"https:\/\/cdn.philasearch.com\/A00002\/E32016\/3201600032h.jpg"},{"image":"https:\/\/cdn.philasearch.com\/A00002\/E32016\/3201600032i.jpg","thumb":"https:\/\/cdn.philasearch.com\/A00002\/E32016\/3201600032i.jpg"},{"image":"https:\/\/cdn.philasearch.com\/A00002\/E32016\/3201600032j.jpg","thumb":"https:\/\/cdn.philasearch.com\/A00002\/E32016\/3201600032j.jpg"},{"image":"https:\/\/cdn.philasearch.com\/A00002\/E32016\/3201600032k.jpg","thumb":"https:\/\/cdn.philasearch.com\/A00002\/E32016\/3201600032k.jpg"},{"image":"https:\/\/cdn.philasearch.com\/A00002\/E32016\/3201600032l.jpg","thumb":"https:\/\/cdn.philasearch.com\/A00002\/E32016\/3201600032l.jpg"},{"image":"https:\/\/cdn.philasearch.com\/A00002\/E32016\/3201600032m.jpg","thumb":"https:\/\/cdn.philasearch.com\/A00002\/E32016\/3201600032m.jpg"},{"image":"https:\/\/cdn.philasearch.com\/A00002\/E32016\/3201600032n.jpg","thumb":"https:\/\/cdn.philasearch.com\/A00002\/E32016\/3201600032n.jpg"},{"image":"https:\/\/cdn.philasearch.com\/A00002\/E32016\/3201600032o.jpg","thumb":"https:\/\/cdn.philasearch.com\/A00002\/E32016\/3201600032o.jpg"},{"image":"https:\/\/cdn.philasearch.com\/A00002\/E32016\/3201600032p.jpg","thumb":"https:\/\/cdn.philasearch.com\/A00002\/E32016\/3201600032p.jpg"},{"image":"https:\/\/cdn.philasearch.com\/A00002\/E32016\/3201600032q.jpg","thumb":"https:\/\/cdn.philasearch.com\/A00002\/E32016\/3201600032q.jpg"},{"image":"https:\/\/cdn.philasearch.com\/A00002\/E32016\/3201600032r.jpg","thumb":"https:\/\/cdn.philasearch.com\/A00002\/E32016\/3201600032r.jpg"},{"image":"https:\/\/cdn.philasearch.com\/A00002\/E32016\/3201600032s.jpg","thumb":"https:\/\/cdn.philasearch.com\/A00002\/E32016\/3201600032s.jpg"},{"image":"https:\/\/cdn.philasearch.com\/A00002\/E32016\/3201600032t.jpg","thumb":"https:\/\/cdn.philasearch.com\/A00002\/E32016\/3201600032t.jpg"},{"image":"https:\/\/cdn.philasearch.com\/A00002\/E32016\/3201600032u.jpg","thumb":"https:\/\/cdn.philasearch.com\/A00002\/E32016\/3201600032u.jpg"},{"image":"https:\/\/cdn.philasearch.com\/A00002\/E32016\/3201600032v.jpg","thumb":"https:\/\/cdn.philasearch.com\/A00002\/E32016\/3201600032v.jpg"},{"image":"https:\/\/cdn.philasearch.com\/A00002\/E32016\/3201600032w.jpg","thumb":"https:\/\/cdn.philasearch.com\/A00002\/E32016\/3201600032w.jpg"},{"image":"https:\/\/cdn.philasearch.com\/A00002\/E32016\/3201600032x.jpg","thumb":"https:\/\/cdn.philasearch.com\/A00002\/E32016\/3201600032x.jpg"},{"image":"https:\/\/cdn.philasearch.com\/A00002\/E32016\/3201600032y.jpg","thumb":"https:\/\/cdn.philasearch.com\/A00002\/E32016\/3201600032y.jpg"},{"image":"https:\/\/cdn.philasearch.com\/A00002\/E32016\/3201600032z.jpg","thumb":"https:\/\/cdn.philasearch.com\/A00002\/E32016\/3201600032z.jpg"},{"image":"https:\/\/cdn.philasearch.com\/A00002\/E32016\/3201600032aa.jpg","thumb":"https:\/\/cdn.philasearch.com\/A00002\/E32016\/3201600032aa.jpg"},{"image":"https:\/\/cdn.philasearch.com\/A00002\/E32016\/3201600032ab.jpg","thumb":"https:\/\/cdn.philasearch.com\/A00002\/E32016\/3201600032ab.jpg"},{"image":"https:\/\/cdn.philasearch.com\/A00002\/E32016\/3201600032ac.jpg","thumb":"https:\/\/cdn.philasearch.com\/A00002\/E32016\/3201600032ac.jpg"},{"image":"https:\/\/cdn.philasearch.com\/A00002\/E32016\/3201600032ad.jpg","thumb":"https:\/\/cdn.philasearch.com\/A00002\/E32016\/3201600032ad.jpg"},{"image":"https:\/\/cdn.philasearch.com\/A00002\/E32016\/3201600032ae.jpg","thumb":"https:\/\/cdn.philasearch.com\/A00002\/E32016\/3201600032ae.jpg"},{"image":"https:\/\/cdn.philasearch.com\/A00002\/E32016\/3201600032af.jpg","thumb":"https:\/\/cdn.philasearch.com\/A00002\/E32016\/3201600032af.jpg"},{"image":"https:\/\/cdn.philasearch.com\/A00002\/E32016\/3201600032ag.jpg","thumb":"https:\/\/cdn.philasearch.com\/A00002\/E32016\/3201600032ag.jpg"},{"image":"https:\/\/cdn.philasearch.com\/A00002\/E32016\/3201600032ah.jpg","thumb":"https:\/\/cdn.philasearch.com\/A00002\/E32016\/3201600032ah.jpg"},{"image":"https:\/\/cdn.philasearch.com\/A00002\/E32016\/3201600032ai.jpg","thumb":"https:\/\/cdn.philasearch.com\/A00002\/E32016\/3201600032ai.jpg"},{"image":"https:\/\/cdn.philasearch.com\/A00002\/E32016\/3201600032aj.jpg","thumb":"https:\/\/cdn.philasearch.com\/A00002\/E32016\/3201600032aj.jpg"},{"image":"https:\/\/cdn.philasearch.com\/A00002\/E32016\/3201600032ak.jpg","thumb":"https:\/\/cdn.philasearch.com\/A00002\/E32016\/3201600032ak.jpg"},{"image":"https:\/\/cdn.philasearch.com\/A00002\/E32016\/3201600032al.jpg","thumb":"https:\/\/cdn.philasearch.com\/A00002\/E32016\/3201600032al.jpg"},{"image":"https:\/\/cdn.philasearch.com\/A00002\/E32016\/3201600032am.jpg","thumb":"https:\/\/cdn.philasearch.com\/A00002\/E32016\/3201600032am.jpg"},{"image":"https:\/\/cdn.philasearch.com\/A00002\/E32016\/3201600032an.jpg","thumb":"https:\/\/cdn.philasearch.com\/A00002\/E32016\/3201600032an.jpg"},{"image":"https:\/\/cdn.philasearch.com\/A00002\/E32016\/3201600032ao.jpg","thumb":"https:\/\/cdn.philasearch.com\/A00002\/E32016\/3201600032ao.jpg"},{"image":"https:\/\/cdn.philasearch.com\/A00002\/E32016\/3201600032ap.jpg","thumb":"https:\/\/cdn.philasearch.com\/A00002\/E32016\/3201600032ap.jpg"},{"image":"https:\/\/cdn.philasearch.com\/A00002\/E32016\/3201600032aq.jpg","thumb":"https:\/\/cdn.philasearch.com\/A00002\/E32016\/3201600032aq.jpg"},{"image":"https:\/\/cdn.philasearch.com\/A00002\/E32016\/3201600032ar.jpg","thumb":"https:\/\/cdn.philasearch.com\/A00002\/E32016\/3201600032ar.jpg"},{"image":"https:\/\/cdn.philasearch.com\/A00002\/E32016\/3201600032as.jpg","thumb":"https:\/\/cdn.philasearch.com\/A00002\/E32016\/3201600032as.jpg"},{"image":"https:\/\/cdn.philasearch.com\/A00002\/E32016\/3201600032at.jpg","thumb":"https:\/\/cdn.philasearch.com\/A00002\/E32016\/3201600032at.jpg"},{"image":"https:\/\/cdn.philasearch.com\/A00002\/E32016\/3201600032au.jpg","thumb":"https:\/\/cdn.philasearch.com\/A00002\/E32016\/3201600032au.jpg"},{"image":"https:\/\/cdn.philasearch.com\/A00002\/E32016\/3201600032av.jpg","thumb":"https:\/\/cdn.philasearch.com\/A00002\/E32016\/3201600032av.jpg"},{"image":"https:\/\/cdn.philasearch.com\/A00002\/E32016\/3201600032aw.jpg","thumb":"https:\/\/cdn.philasearch.com\/A00002\/E32016\/3201600032aw.jpg"},{"image":"https:\/\/cdn.philasearch.com\/A00002\/E32016\/3201600032ax.jpg","thumb":"https:\/\/cdn.philasearch.com\/A00002\/E32016\/3201600032ax.jpg"},{"image":"https:\/\/cdn.philasearch.com\/A00002\/E32016\/3201600032ay.jpg","thumb":"https:\/\/cdn.philasearch.com\/A00002\/E32016\/3201600032ay.jpg"},{"image":"https:\/\/cdn.philasearch.com\/A00002\/E32016\/3201600032az.jpg","thumb":"https:\/\/cdn.philasearch.com\/A00002\/E32016\/3201600032az.jpg"},{"image":"https:\/\/cdn.philasearch.com\/A00002\/E32016\/3201600032ba.jpg","thumb":"https:\/\/cdn.philasearch.com\/A00002\/E32016\/3201600032ba.jpg"},{"image":"https:\/\/cdn.philasearch.com\/A00002\/E32016\/3201600032bb.jpg","thumb":"https:\/\/cdn.philasearch.com\/A00002\/E32016\/3201600032bb.jpg"},{"image":"https:\/\/cdn.philasearch.com\/A00002\/E32016\/3201600032bc.jpg","thumb":"https:\/\/cdn.philasearch.com\/A00002\/E32016\/3201600032bc.jpg"},{"image":"https:\/\/cdn.philasearch.com\/A00002\/E32016\/3201600032bd.jpg","thumb":"https:\/\/cdn.philasearch.com\/A00002\/E32016\/3201600032bd.jpg"},{"image":"https:\/\/cdn.philasearch.com\/A00002\/E32016\/3201600032be.jpg","thumb":"https:\/\/cdn.philasearch.com\/A00002\/E32016\/3201600032be.jpg"},{"image":"https:\/\/cdn.philasearch.com\/A00002\/E32016\/3201600032bf.jpg","thumb":"https:\/\/cdn.philasearch.com\/A00002\/E32016\/3201600032bf.jpg"},{"image":"https:\/\/cdn.philasearch.com\/A00002\/E32016\/3201600032bg.jpg","thumb":"https:\/\/cdn.philasearch.com\/A00002\/E32016\/3201600032bg.jpg"},{"image":"https:\/\/cdn.philasearch.com\/A00002\/E32016\/3201600032bh.jpg","thumb":"https:\/\/cdn.philasearch.com\/A00002\/E32016\/3201600032bh.jpg"},{"image":"https:\/\/cdn.philasearch.com\/A00002\/E32016\/3201600032bi.jpg","thumb":"https:\/\/cdn.philasearch.com\/A00002\/E32016\/3201600032bi.jpg"},{"image":"https:\/\/cdn.philasearch.com\/A00002\/E32016\/3201600032bj.jpg","thumb":"https:\/\/cdn.philasearch.com\/A00002\/E32016\/3201600032bj.jpg"},{"image":"https:\/\/cdn.philasearch.com\/A00002\/E32016\/3201600032bk.jpg","thumb":"https:\/\/cdn.philasearch.com\/A00002\/E32016\/3201600032bk.jpg"},{"image":"https:\/\/cdn.philasearch.com\/A00002\/E32016\/3201600032bl.jpg","thumb":"https:\/\/cdn.philasearch.com\/A00002\/E32016\/3201600032bl.jpg"},{"image":"https:\/\/cdn.philasearch.com\/A00002\/E32016\/3201600032bm.jpg","thumb":"https:\/\/cdn.philasearch.com\/A00002\/E32016\/3201600032bm.jpg"},{"image":"https:\/\/cdn.philasearch.com\/A00002\/E32016\/3201600032bn.jpg","thumb":"https:\/\/cdn.philasearch.com\/A00002\/E32016\/3201600032bn.jpg"},{"image":"https:\/\/cdn.philasearch.com\/A00002\/E32016\/3201600032bo.jpg","thumb":"https:\/\/cdn.philasearch.com\/A00002\/E32016\/3201600032bo.jpg"},{"image":"https:\/\/cdn.philasearch.com\/A00002\/E32016\/3201600032bp.jpg","thumb":"https:\/\/cdn.philasearch.com\/A00002\/E32016\/3201600032bp.jpg"},{"image":"https:\/\/cdn.philasearch.com\/A00002\/E32016\/3201600032bq.jpg","thumb":"https:\/\/cdn.philasearch.com\/A00002\/E32016\/3201600032bq.jpg"},{"image":"https:\/\/cdn.philasearch.com\/A00002\/E32016\/3201600032br.jpg","thumb":"https:\/\/cdn.philasearch.com\/A00002\/E32016\/3201600032br.jpg"},{"image":"https:\/\/cdn.philasearch.com\/A00002\/E32016\/3201600032bs.jpg","thumb":"https:\/\/cdn.philasearch.com\/A00002\/E32016\/3201600032bs.jpg"},{"image":"https:\/\/cdn.philasearch.com\/A00002\/E32016\/3201600032bt.jpg","thumb":"https:\/\/cdn.philasearch.com\/A00002\/E32016\/3201600032bt.jpg"},{"image":"https:\/\/cdn.philasearch.com\/A00002\/E32016\/3201600032bu.jpg","thumb":"https:\/\/cdn.philasearch.com\/A00002\/E32016\/3201600032bu.jpg"},{"image":"https:\/\/cdn.philasearch.com\/A00002\/E32016\/3201600032bv.jpg","thumb":"https:\/\/cdn.philasearch.com\/A00002\/E32016\/3201600032bv.jpg"},{"image":"https:\/\/cdn.philasearch.com\/A00002\/E32016\/3201600032bw.jpg","thumb":"https:\/\/cdn.philasearch.com\/A00002\/E32016\/3201600032bw.jpg"},{"image":"https:\/\/cdn.philasearch.com\/A00002\/E32016\/3201600032bx.jpg","thumb":"https:\/\/cdn.philasearch.com\/A00002\/E32016\/3201600032bx.jpg"},{"image":"https:\/\/cdn.philasearch.com\/A00002\/E32016\/3201600032by.jpg","thumb":"https:\/\/cdn.philasearch.com\/A00002\/E32016\/3201600032by.jpg"},{"image":"https:\/\/cdn.philasearch.com\/A00002\/E32016\/3201600032bz.jpg","thumb":"https:\/\/cdn.philasearch.com\/A00002\/E32016\/3201600032bz.jpg"},{"image":"https:\/\/cdn.philasearch.com\/A00002\/E32016\/3201600032ca.jpg","thumb":"https:\/\/cdn.philasearch.com\/A00002\/E32016\/3201600032ca.jpg"},{"image":"https:\/\/cdn.philasearch.com\/A00002\/E32016\/3201600032cb.jpg","thumb":"https:\/\/cdn.philasearch.com\/A00002\/E32016\/3201600032cb.jpg"},{"image":"https:\/\/cdn.philasearch.com\/A00002\/E32016\/3201600032cc.jpg","thumb":"https:\/\/cdn.philasearch.com\/A00002\/E32016\/3201600032cc.jpg"},{"image":"https:\/\/cdn.philasearch.com\/A00002\/E32016\/3201600032cd.jpg","thumb":"https:\/\/cdn.philasearch.com\/A00002\/E32016\/3201600032cd.jpg"},{"image":"https:\/\/cdn.philasearch.com\/A00002\/E32016\/3201600032ce.jpg","thumb":"https:\/\/cdn.philasearch.com\/A00002\/E32016\/3201600032ce.jpg"},{"image":"https:\/\/cdn.philasearch.com\/A00002\/E32016\/3201600032cf.jpg","thumb":"https:\/\/cdn.philasearch.com\/A00002\/E32016\/3201600032cf.jpg"},{"image":"https:\/\/cdn.philasearch.com\/A00002\/E32016\/3201600032cg.jpg","thumb":"https:\/\/cdn.philasearch.com\/A00002\/E32016\/3201600032cg.jpg"},{"image":"https:\/\/cdn.philasearch.com\/A00002\/E32016\/3201600032ch.jpg","thumb":"https:\/\/cdn.philasearch.com\/A00002\/E32016\/3201600032ch.jpg"},{"image":"https:\/\/cdn.philasearch.com\/A00002\/E32016\/3201600032ci.jpg","thumb":"https:\/\/cdn.philasearch.com\/A00002\/E32016\/3201600032ci.jpg"},{"image":"https:\/\/cdn.philasearch.com\/A00002\/E32016\/3201600032cj.jpg","thumb":"https:\/\/cdn.philasearch.com\/A00002\/E32016\/3201600032cj.jpg"},{"image":"https:\/\/cdn.philasearch.com\/A00002\/E32016\/3201600032ck.jpg","thumb":"https:\/\/cdn.philasearch.com\/A00002\/E32016\/3201600032ck.jpg"},{"image":"https:\/\/cdn.philasearch.com\/A00002\/E32016\/3201600032cl.jpg","thumb":"https:\/\/cdn.philasearch.com\/A00002\/E32016\/3201600032cl.jpg"},{"image":"https:\/\/cdn.philasearch.com\/A00002\/E32016\/3201600032cm.jpg","thumb":"https:\/\/cdn.philasearch.com\/A00002\/E32016\/3201600032cm.jpg"},{"image":"https:\/\/cdn.philasearch.com\/A00002\/E32016\/3201600032cn.jpg","thumb":"https:\/\/cdn.philasearch.com\/A00002\/E32016\/3201600032cn.jpg"},{"image":"https:\/\/cdn.philasearch.com\/A00002\/E32016\/3201600032co.jpg","thumb":"https:\/\/cdn.philasearch.com\/A00002\/E32016\/3201600032co.jpg"},{"image":"https:\/\/cdn.philasearch.com\/A00002\/E32016\/3201600032cp.jpg","thumb":"https:\/\/cdn.philasearch.com\/A00002\/E32016\/3201600032cp.jpg"},{"image":"https:\/\/cdn.philasearch.com\/A00002\/E32016\/3201600032cq.jpg","thumb":"https:\/\/cdn.philasearch.com\/A00002\/E32016\/3201600032cq.jpg"},{"image":"https:\/\/cdn.philasearch.com\/A00002\/E32016\/3201600032cr.jpg","thumb":"https:\/\/cdn.philasearch.com\/A00002\/E32016\/3201600032cr.jpg"},{"image":"https:\/\/cdn.philasearch.com\/A00002\/E32016\/3201600032cs.jpg","thumb":"https:\/\/cdn.philasearch.com\/A00002\/E32016\/3201600032cs.jpg"},{"image":"https:\/\/cdn.philasearch.com\/A00002\/E32016\/3201600032ct.jpg","thumb":"https:\/\/cdn.philasearch.com\/A00002\/E32016\/3201600032ct.jpg"},{"image":"https:\/\/cdn.philasearch.com\/A00002\/E32016\/3201600032cu.jpg","thumb":"https:\/\/cdn.philasearch.com\/A00002\/E32016\/3201600032cu.jpg"},{"image":"https:\/\/cdn.philasearch.com\/A00002\/E32016\/3201600032cv.jpg","thumb":"https:\/\/cdn.philasearch.com\/A00002\/E32016\/3201600032cv.jpg"},{"image":"https:\/\/cdn.philasearch.com\/A00002\/E32016\/3201600032cw.jpg","thumb":"https:\/\/cdn.philasearch.com\/A00002\/E32016\/3201600032cw.jpg"},{"image":"https:\/\/cdn.philasearch.com\/A00002\/E32016\/3201600032cx.jpg","thumb":"https:\/\/cdn.philasearch.com\/A00002\/E32016\/3201600032cx.jpg"}]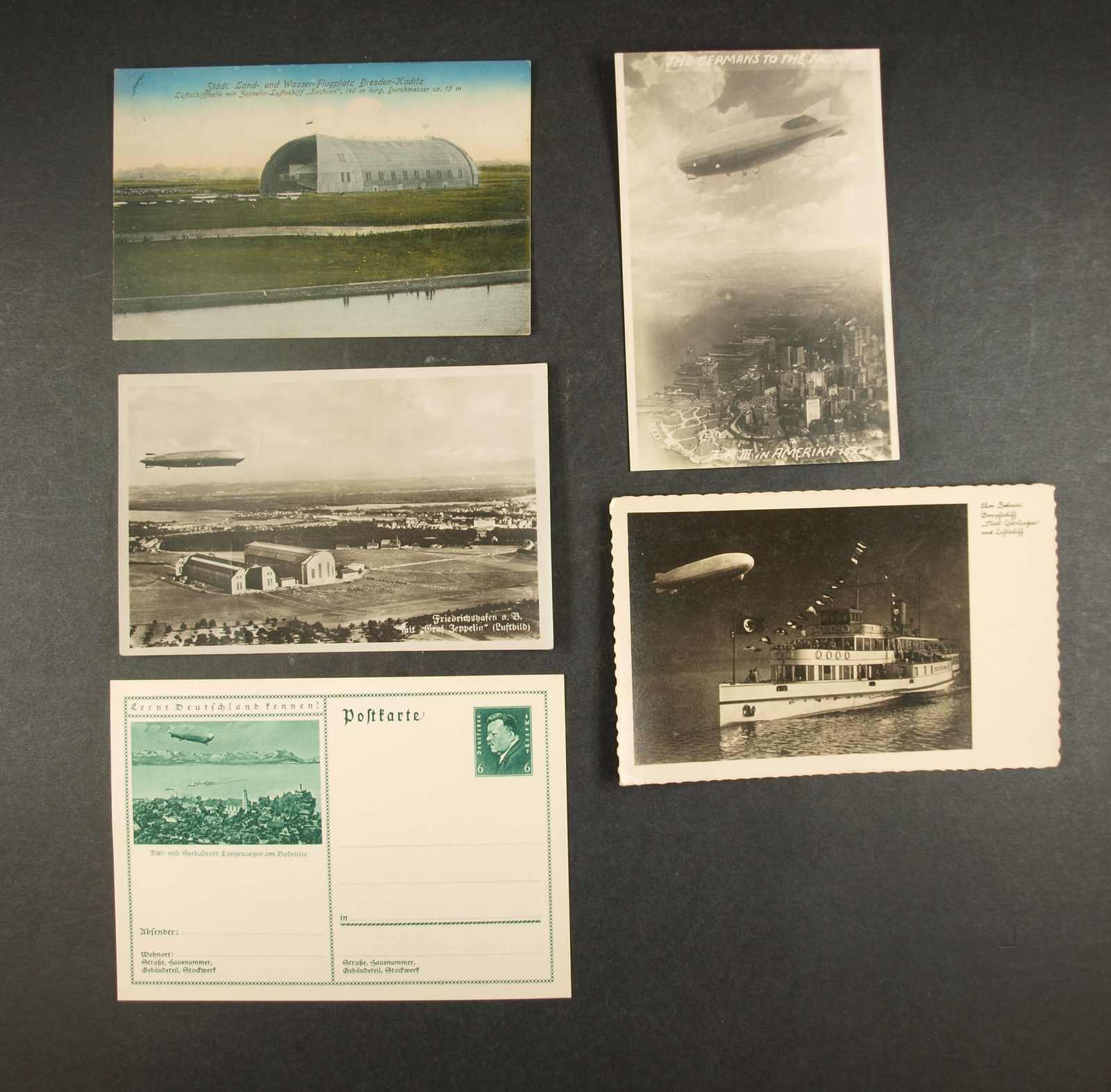 Große Sammlung Zeppelin Ansichtspostkarten in Karton. Fast 500 Stück, alle sauber in Hüllen. Dabei viele bessere und nicht so häufige Karten.

Automatically generated translation:
Large collection Zeppelin picture postcards in a box. Almost 500 piece, all neat in sleeves. Many better and not so frequent cards.
Lots marked with a "D" will be sold using the differential tax system (German §25a UStG.) For buyers within the EU there is a 25% buyers commission on top of the hammer price plus 2 Euro lot fee. The total amount already includes the VAT which will not been shown on the invoice. For buyers outside the EU, the buyers commission remains 18%.