Lot 1238 (D) 2,300.00 EUR


(sold)


Collections and Lots Russia/Soviet Union
[{"iframe":"\/wp-content\/plugins\/philasearch\/template-parts\/video-iframe.php?v=https:\/\/cdn.philasearch.com\/A00002\/E32015\/3201500119video.mp4","thumb":"https:\/\/cdn.philasearch.com\/A00002\/E32015\/3201500119video.jpg"},{"iframe":"\/wp-content\/plugins\/philasearch\/template-parts\/video-iframe.php?v=https:\/\/cdn.philasearch.com\/A00002\/E32015\/3201500119video1.mp4","thumb":"https:\/\/cdn.philasearch.com\/A00002\/E32015\/3201500119video1.jpg"},{"iframe":"\/wp-content\/plugins\/philasearch\/template-parts\/video-iframe.php?v=https:\/\/cdn.philasearch.com\/A00002\/E32015\/3201500119video2.mp4","thumb":"https:\/\/cdn.philasearch.com\/A00002\/E32015\/3201500119video2.jpg"},{"iframe":"\/wp-content\/plugins\/philasearch\/template-parts\/video-iframe.php?v=https:\/\/cdn.philasearch.com\/A00002\/E32015\/3201500119video3.mp4","thumb":"https:\/\/cdn.philasearch.com\/A00002\/E32015\/3201500119video3.jpg"},{"iframe":"\/wp-content\/plugins\/philasearch\/template-parts\/video-iframe.php?v=https:\/\/cdn.philasearch.com\/A00002\/E32015\/3201500119video4.mp4","thumb":"https:\/\/cdn.philasearch.com\/A00002\/E32015\/3201500119video4.jpg"},{"iframe":"\/wp-content\/plugins\/philasearch\/template-parts\/video-iframe.php?v=https:\/\/cdn.philasearch.com\/A00002\/E32015\/3201500119video5.mp4","thumb":"https:\/\/cdn.philasearch.com\/A00002\/E32015\/3201500119video5.jpg"}]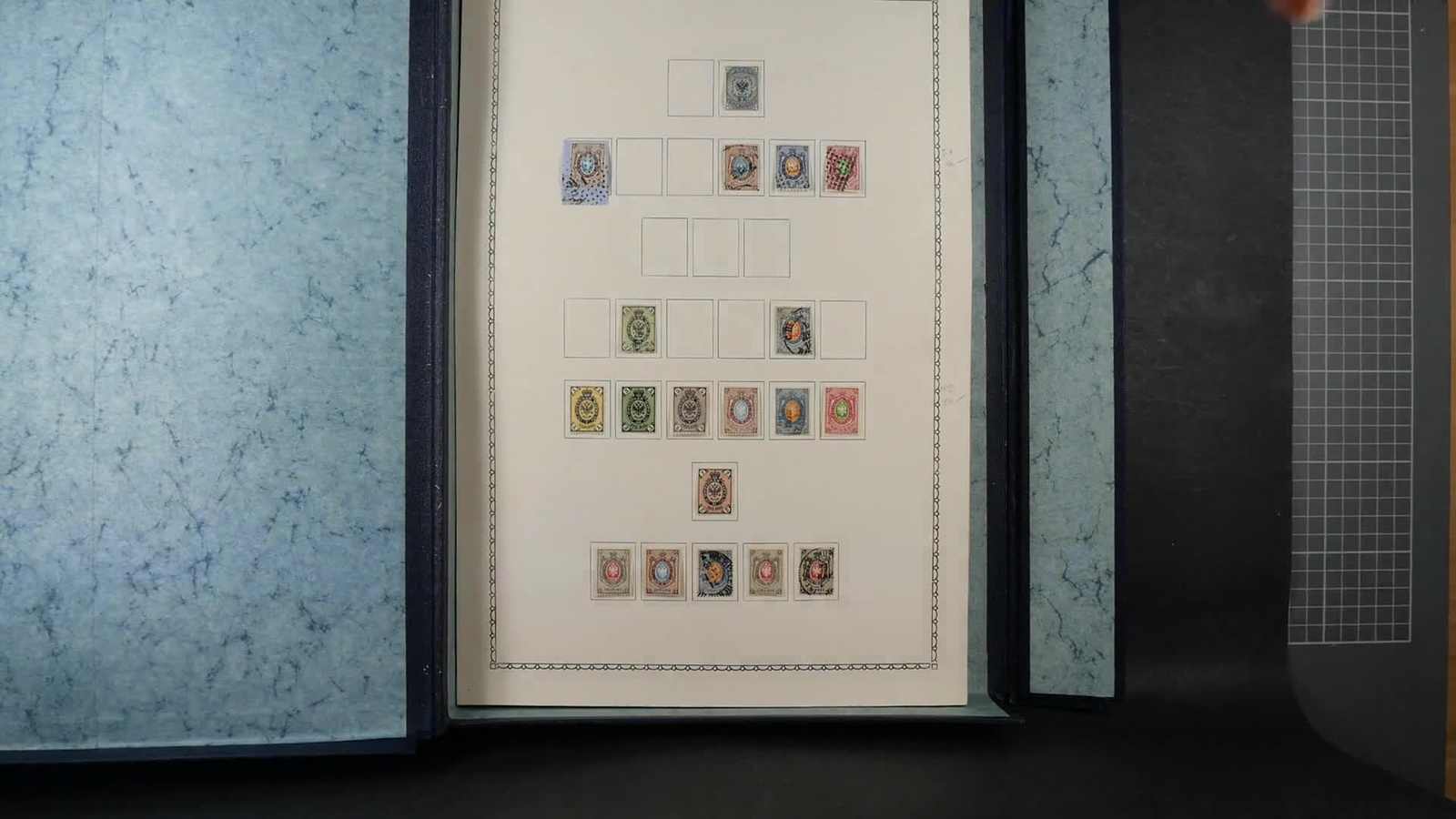 RUSSLAND/SOWJETUNION. Einmalige Sammlung in 3 großen Schachteln. Die Sammlung ist auf selbstgestalteten Albumblättern aufgezogen und ist in sehr guter Qualität. Dabei auch viele Varianten / Zähnungen etc. Viele bessere Einzelstücke/Blocks und so weiter. Die Marken sind meist in ungebrauchter (sauber gefalzter) Qualität. Einige sind auch gestempelt und die späteren Ausgaben (in Pergamin Papier) sind fast alle postfrisch. Wir haben den Michel Katalogwert auf circa 15.000-20.000 Euro geschätzt, wobei wir ungebrauchte Ausgaben zu 50% des postfrischen Katalogwertes gerechnet haben. Echtes Liebhaber Objekt traumhaftschön aufgemacht.

Automatically generated translation:
Russia / Soviet Union. Unique collection in 3 large boxes. The collection is on self-designed album pages made up and is of very good quality. With also many variety / perforations and so on. Many better single pieces / souvenir sheets and so on. The stamps are mostly in unused (clean hinged) quality. A few are also used and the later issues (in glassine paper) are almost all mint never hinged. We have the Michel catalogue value on approximate 15.000-20.000 Euro estimated, whereby we unused issues to 50% of the mint never hinged catalogue value calculated have. Genuine lover object a perfect dream customized.
Lots marked with a "D" will be sold using the differential tax system (German §25a UStG.) For buyers within the EU there is a 25% buyers commission on top of the hammer price plus 2 Euro lot fee. The total amount already includes the VAT which will not been shown on the invoice. For buyers outside the EU, the buyers commission remains 18%.