Lot 164 (D)
460.00 EUR


Collections and Lots Worldwide
460.00 EUR
[{"image":"https:\/\/cdn.philasearch.com\/A00002\/E32016\/3201600146.jpg","thumb":"https:\/\/cdn.philasearch.com\/A00002\/E32016\/3201600146.jpg"},{"image":"https:\/\/cdn.philasearch.com\/A00002\/E32016\/3201600146a.jpg","thumb":"https:\/\/cdn.philasearch.com\/A00002\/E32016\/3201600146a.jpg"},{"image":"https:\/\/cdn.philasearch.com\/A00002\/E32016\/3201600146b.jpg","thumb":"https:\/\/cdn.philasearch.com\/A00002\/E32016\/3201600146b.jpg"},{"image":"https:\/\/cdn.philasearch.com\/A00002\/E32016\/3201600146c.jpg","thumb":"https:\/\/cdn.philasearch.com\/A00002\/E32016\/3201600146c.jpg"},{"image":"https:\/\/cdn.philasearch.com\/A00002\/E32016\/3201600146d.jpg","thumb":"https:\/\/cdn.philasearch.com\/A00002\/E32016\/3201600146d.jpg"},{"image":"https:\/\/cdn.philasearch.com\/A00002\/E32016\/3201600146e.jpg","thumb":"https:\/\/cdn.philasearch.com\/A00002\/E32016\/3201600146e.jpg"},{"image":"https:\/\/cdn.philasearch.com\/A00002\/E32016\/3201600146f.jpg","thumb":"https:\/\/cdn.philasearch.com\/A00002\/E32016\/3201600146f.jpg"},{"image":"https:\/\/cdn.philasearch.com\/A00002\/E32016\/3201600146g.jpg","thumb":"https:\/\/cdn.philasearch.com\/A00002\/E32016\/3201600146g.jpg"},{"image":"https:\/\/cdn.philasearch.com\/A00002\/E32016\/3201600146h.jpg","thumb":"https:\/\/cdn.philasearch.com\/A00002\/E32016\/3201600146h.jpg"},{"image":"https:\/\/cdn.philasearch.com\/A00002\/E32016\/3201600146i.jpg","thumb":"https:\/\/cdn.philasearch.com\/A00002\/E32016\/3201600146i.jpg"},{"image":"https:\/\/cdn.philasearch.com\/A00002\/E32016\/3201600146j.jpg","thumb":"https:\/\/cdn.philasearch.com\/A00002\/E32016\/3201600146j.jpg"},{"image":"https:\/\/cdn.philasearch.com\/A00002\/E32016\/3201600146k.jpg","thumb":"https:\/\/cdn.philasearch.com\/A00002\/E32016\/3201600146k.jpg"},{"image":"https:\/\/cdn.philasearch.com\/A00002\/E32016\/3201600146l.jpg","thumb":"https:\/\/cdn.philasearch.com\/A00002\/E32016\/3201600146l.jpg"},{"image":"https:\/\/cdn.philasearch.com\/A00002\/E32016\/3201600146m.jpg","thumb":"https:\/\/cdn.philasearch.com\/A00002\/E32016\/3201600146m.jpg"},{"image":"https:\/\/cdn.philasearch.com\/A00002\/E32016\/3201600146n.jpg","thumb":"https:\/\/cdn.philasearch.com\/A00002\/E32016\/3201600146n.jpg"},{"image":"https:\/\/cdn.philasearch.com\/A00002\/E32016\/3201600146o.jpg","thumb":"https:\/\/cdn.philasearch.com\/A00002\/E32016\/3201600146o.jpg"},{"image":"https:\/\/cdn.philasearch.com\/A00002\/E32016\/3201600146p.jpg","thumb":"https:\/\/cdn.philasearch.com\/A00002\/E32016\/3201600146p.jpg"},{"image":"https:\/\/cdn.philasearch.com\/A00002\/E32016\/3201600146q.jpg","thumb":"https:\/\/cdn.philasearch.com\/A00002\/E32016\/3201600146q.jpg"},{"image":"https:\/\/cdn.philasearch.com\/A00002\/E32016\/3201600146r.jpg","thumb":"https:\/\/cdn.philasearch.com\/A00002\/E32016\/3201600146r.jpg"},{"image":"https:\/\/cdn.philasearch.com\/A00002\/E32016\/3201600146s.jpg","thumb":"https:\/\/cdn.philasearch.com\/A00002\/E32016\/3201600146s.jpg"},{"image":"https:\/\/cdn.philasearch.com\/A00002\/E32016\/3201600146t.jpg","thumb":"https:\/\/cdn.philasearch.com\/A00002\/E32016\/3201600146t.jpg"},{"image":"https:\/\/cdn.philasearch.com\/A00002\/E32016\/3201600146u.jpg","thumb":"https:\/\/cdn.philasearch.com\/A00002\/E32016\/3201600146u.jpg"},{"image":"https:\/\/cdn.philasearch.com\/A00002\/E32016\/3201600146v.jpg","thumb":"https:\/\/cdn.philasearch.com\/A00002\/E32016\/3201600146v.jpg"},{"image":"https:\/\/cdn.philasearch.com\/A00002\/E32016\/3201600146w.jpg","thumb":"https:\/\/cdn.philasearch.com\/A00002\/E32016\/3201600146w.jpg"},{"image":"https:\/\/cdn.philasearch.com\/A00002\/E32016\/3201600146x.jpg","thumb":"https:\/\/cdn.philasearch.com\/A00002\/E32016\/3201600146x.jpg"},{"image":"https:\/\/cdn.philasearch.com\/A00002\/E32016\/3201600146y.jpg","thumb":"https:\/\/cdn.philasearch.com\/A00002\/E32016\/3201600146y.jpg"},{"image":"https:\/\/cdn.philasearch.com\/A00002\/E32016\/3201600146z.jpg","thumb":"https:\/\/cdn.philasearch.com\/A00002\/E32016\/3201600146z.jpg"},{"image":"https:\/\/cdn.philasearch.com\/A00002\/E32016\/3201600146aa.jpg","thumb":"https:\/\/cdn.philasearch.com\/A00002\/E32016\/3201600146aa.jpg"},{"image":"https:\/\/cdn.philasearch.com\/A00002\/E32016\/3201600146ab.jpg","thumb":"https:\/\/cdn.philasearch.com\/A00002\/E32016\/3201600146ab.jpg"},{"image":"https:\/\/cdn.philasearch.com\/A00002\/E32016\/3201600146ac.jpg","thumb":"https:\/\/cdn.philasearch.com\/A00002\/E32016\/3201600146ac.jpg"},{"image":"https:\/\/cdn.philasearch.com\/A00002\/E32016\/3201600146ad.jpg","thumb":"https:\/\/cdn.philasearch.com\/A00002\/E32016\/3201600146ad.jpg"},{"image":"https:\/\/cdn.philasearch.com\/A00002\/E32016\/3201600146ae.jpg","thumb":"https:\/\/cdn.philasearch.com\/A00002\/E32016\/3201600146ae.jpg"},{"image":"https:\/\/cdn.philasearch.com\/A00002\/E32016\/3201600146af.jpg","thumb":"https:\/\/cdn.philasearch.com\/A00002\/E32016\/3201600146af.jpg"},{"image":"https:\/\/cdn.philasearch.com\/A00002\/E32016\/3201600146ag.jpg","thumb":"https:\/\/cdn.philasearch.com\/A00002\/E32016\/3201600146ag.jpg"},{"image":"https:\/\/cdn.philasearch.com\/A00002\/E32016\/3201600146ah.jpg","thumb":"https:\/\/cdn.philasearch.com\/A00002\/E32016\/3201600146ah.jpg"},{"image":"https:\/\/cdn.philasearch.com\/A00002\/E32016\/3201600146ai.jpg","thumb":"https:\/\/cdn.philasearch.com\/A00002\/E32016\/3201600146ai.jpg"},{"image":"https:\/\/cdn.philasearch.com\/A00002\/E32016\/3201600146aj.jpg","thumb":"https:\/\/cdn.philasearch.com\/A00002\/E32016\/3201600146aj.jpg"},{"image":"https:\/\/cdn.philasearch.com\/A00002\/E32016\/3201600146ak.jpg","thumb":"https:\/\/cdn.philasearch.com\/A00002\/E32016\/3201600146ak.jpg"},{"image":"https:\/\/cdn.philasearch.com\/A00002\/E32016\/3201600146al.jpg","thumb":"https:\/\/cdn.philasearch.com\/A00002\/E32016\/3201600146al.jpg"},{"image":"https:\/\/cdn.philasearch.com\/A00002\/E32016\/3201600146am.jpg","thumb":"https:\/\/cdn.philasearch.com\/A00002\/E32016\/3201600146am.jpg"},{"image":"https:\/\/cdn.philasearch.com\/A00002\/E32016\/3201600146an.jpg","thumb":"https:\/\/cdn.philasearch.com\/A00002\/E32016\/3201600146an.jpg"},{"image":"https:\/\/cdn.philasearch.com\/A00002\/E32016\/3201600146ao.jpg","thumb":"https:\/\/cdn.philasearch.com\/A00002\/E32016\/3201600146ao.jpg"},{"image":"https:\/\/cdn.philasearch.com\/A00002\/E32016\/3201600146ap.jpg","thumb":"https:\/\/cdn.philasearch.com\/A00002\/E32016\/3201600146ap.jpg"},{"image":"https:\/\/cdn.philasearch.com\/A00002\/E32016\/3201600146aq.jpg","thumb":"https:\/\/cdn.philasearch.com\/A00002\/E32016\/3201600146aq.jpg"},{"image":"https:\/\/cdn.philasearch.com\/A00002\/E32016\/3201600146ar.jpg","thumb":"https:\/\/cdn.philasearch.com\/A00002\/E32016\/3201600146ar.jpg"},{"image":"https:\/\/cdn.philasearch.com\/A00002\/E32016\/3201600146as.jpg","thumb":"https:\/\/cdn.philasearch.com\/A00002\/E32016\/3201600146as.jpg"},{"image":"https:\/\/cdn.philasearch.com\/A00002\/E32016\/3201600146at.jpg","thumb":"https:\/\/cdn.philasearch.com\/A00002\/E32016\/3201600146at.jpg"},{"image":"https:\/\/cdn.philasearch.com\/A00002\/E32016\/3201600146au.jpg","thumb":"https:\/\/cdn.philasearch.com\/A00002\/E32016\/3201600146au.jpg"},{"image":"https:\/\/cdn.philasearch.com\/A00002\/E32016\/3201600146av.jpg","thumb":"https:\/\/cdn.philasearch.com\/A00002\/E32016\/3201600146av.jpg"},{"image":"https:\/\/cdn.philasearch.com\/A00002\/E32016\/3201600146aw.jpg","thumb":"https:\/\/cdn.philasearch.com\/A00002\/E32016\/3201600146aw.jpg"},{"image":"https:\/\/cdn.philasearch.com\/A00002\/E32016\/3201600146ax.jpg","thumb":"https:\/\/cdn.philasearch.com\/A00002\/E32016\/3201600146ax.jpg"},{"image":"https:\/\/cdn.philasearch.com\/A00002\/E32016\/3201600146ay.jpg","thumb":"https:\/\/cdn.philasearch.com\/A00002\/E32016\/3201600146ay.jpg"},{"image":"https:\/\/cdn.philasearch.com\/A00002\/E32016\/3201600146az.jpg","thumb":"https:\/\/cdn.philasearch.com\/A00002\/E32016\/3201600146az.jpg"},{"image":"https:\/\/cdn.philasearch.com\/A00002\/E32016\/3201600146ba.jpg","thumb":"https:\/\/cdn.philasearch.com\/A00002\/E32016\/3201600146ba.jpg"},{"image":"https:\/\/cdn.philasearch.com\/A00002\/E32016\/3201600146bb.jpg","thumb":"https:\/\/cdn.philasearch.com\/A00002\/E32016\/3201600146bb.jpg"},{"image":"https:\/\/cdn.philasearch.com\/A00002\/E32016\/3201600146bc.jpg","thumb":"https:\/\/cdn.philasearch.com\/A00002\/E32016\/3201600146bc.jpg"},{"image":"https:\/\/cdn.philasearch.com\/A00002\/E32016\/3201600146bd.jpg","thumb":"https:\/\/cdn.philasearch.com\/A00002\/E32016\/3201600146bd.jpg"},{"image":"https:\/\/cdn.philasearch.com\/A00002\/E32016\/3201600146be.jpg","thumb":"https:\/\/cdn.philasearch.com\/A00002\/E32016\/3201600146be.jpg"},{"image":"https:\/\/cdn.philasearch.com\/A00002\/E32016\/3201600146bf.jpg","thumb":"https:\/\/cdn.philasearch.com\/A00002\/E32016\/3201600146bf.jpg"},{"image":"https:\/\/cdn.philasearch.com\/A00002\/E32016\/3201600146bg.jpg","thumb":"https:\/\/cdn.philasearch.com\/A00002\/E32016\/3201600146bg.jpg"},{"image":"https:\/\/cdn.philasearch.com\/A00002\/E32016\/3201600146bh.jpg","thumb":"https:\/\/cdn.philasearch.com\/A00002\/E32016\/3201600146bh.jpg"},{"image":"https:\/\/cdn.philasearch.com\/A00002\/E32016\/3201600146bi.jpg","thumb":"https:\/\/cdn.philasearch.com\/A00002\/E32016\/3201600146bi.jpg"},{"image":"https:\/\/cdn.philasearch.com\/A00002\/E32016\/3201600146bj.jpg","thumb":"https:\/\/cdn.philasearch.com\/A00002\/E32016\/3201600146bj.jpg"},{"image":"https:\/\/cdn.philasearch.com\/A00002\/E32016\/3201600146bk.jpg","thumb":"https:\/\/cdn.philasearch.com\/A00002\/E32016\/3201600146bk.jpg"},{"image":"https:\/\/cdn.philasearch.com\/A00002\/E32016\/3201600146bl.jpg","thumb":"https:\/\/cdn.philasearch.com\/A00002\/E32016\/3201600146bl.jpg"},{"image":"https:\/\/cdn.philasearch.com\/A00002\/E32016\/3201600146bm.jpg","thumb":"https:\/\/cdn.philasearch.com\/A00002\/E32016\/3201600146bm.jpg"},{"image":"https:\/\/cdn.philasearch.com\/A00002\/E32016\/3201600146bn.jpg","thumb":"https:\/\/cdn.philasearch.com\/A00002\/E32016\/3201600146bn.jpg"},{"image":"https:\/\/cdn.philasearch.com\/A00002\/E32016\/3201600146bo.jpg","thumb":"https:\/\/cdn.philasearch.com\/A00002\/E32016\/3201600146bo.jpg"},{"image":"https:\/\/cdn.philasearch.com\/A00002\/E32016\/3201600146bp.jpg","thumb":"https:\/\/cdn.philasearch.com\/A00002\/E32016\/3201600146bp.jpg"},{"image":"https:\/\/cdn.philasearch.com\/A00002\/E32016\/3201600146bq.jpg","thumb":"https:\/\/cdn.philasearch.com\/A00002\/E32016\/3201600146bq.jpg"},{"image":"https:\/\/cdn.philasearch.com\/A00002\/E32016\/3201600146br.jpg","thumb":"https:\/\/cdn.philasearch.com\/A00002\/E32016\/3201600146br.jpg"},{"image":"https:\/\/cdn.philasearch.com\/A00002\/E32016\/3201600146bs.jpg","thumb":"https:\/\/cdn.philasearch.com\/A00002\/E32016\/3201600146bs.jpg"},{"image":"https:\/\/cdn.philasearch.com\/A00002\/E32016\/3201600146bt.jpg","thumb":"https:\/\/cdn.philasearch.com\/A00002\/E32016\/3201600146bt.jpg"},{"image":"https:\/\/cdn.philasearch.com\/A00002\/E32016\/3201600146bu.jpg","thumb":"https:\/\/cdn.philasearch.com\/A00002\/E32016\/3201600146bu.jpg"},{"image":"https:\/\/cdn.philasearch.com\/A00002\/E32016\/3201600146bv.jpg","thumb":"https:\/\/cdn.philasearch.com\/A00002\/E32016\/3201600146bv.jpg"},{"image":"https:\/\/cdn.philasearch.com\/A00002\/E32016\/3201600146bw.jpg","thumb":"https:\/\/cdn.philasearch.com\/A00002\/E32016\/3201600146bw.jpg"},{"image":"https:\/\/cdn.philasearch.com\/A00002\/E32016\/3201600146bx.jpg","thumb":"https:\/\/cdn.philasearch.com\/A00002\/E32016\/3201600146bx.jpg"},{"image":"https:\/\/cdn.philasearch.com\/A00002\/E32016\/3201600146by.jpg","thumb":"https:\/\/cdn.philasearch.com\/A00002\/E32016\/3201600146by.jpg"},{"image":"https:\/\/cdn.philasearch.com\/A00002\/E32016\/3201600146bz.jpg","thumb":"https:\/\/cdn.philasearch.com\/A00002\/E32016\/3201600146bz.jpg"},{"image":"https:\/\/cdn.philasearch.com\/A00002\/E32016\/3201600146ca.jpg","thumb":"https:\/\/cdn.philasearch.com\/A00002\/E32016\/3201600146ca.jpg"},{"image":"https:\/\/cdn.philasearch.com\/A00002\/E32016\/3201600146cb.jpg","thumb":"https:\/\/cdn.philasearch.com\/A00002\/E32016\/3201600146cb.jpg"},{"image":"https:\/\/cdn.philasearch.com\/A00002\/E32016\/3201600146cc.jpg","thumb":"https:\/\/cdn.philasearch.com\/A00002\/E32016\/3201600146cc.jpg"},{"image":"https:\/\/cdn.philasearch.com\/A00002\/E32016\/3201600146cd.jpg","thumb":"https:\/\/cdn.philasearch.com\/A00002\/E32016\/3201600146cd.jpg"},{"image":"https:\/\/cdn.philasearch.com\/A00002\/E32016\/3201600146ce.jpg","thumb":"https:\/\/cdn.philasearch.com\/A00002\/E32016\/3201600146ce.jpg"},{"image":"https:\/\/cdn.philasearch.com\/A00002\/E32016\/3201600146cf.jpg","thumb":"https:\/\/cdn.philasearch.com\/A00002\/E32016\/3201600146cf.jpg"},{"image":"https:\/\/cdn.philasearch.com\/A00002\/E32016\/3201600146cg.jpg","thumb":"https:\/\/cdn.philasearch.com\/A00002\/E32016\/3201600146cg.jpg"},{"image":"https:\/\/cdn.philasearch.com\/A00002\/E32016\/3201600146ch.jpg","thumb":"https:\/\/cdn.philasearch.com\/A00002\/E32016\/3201600146ch.jpg"},{"image":"https:\/\/cdn.philasearch.com\/A00002\/E32016\/3201600146ci.jpg","thumb":"https:\/\/cdn.philasearch.com\/A00002\/E32016\/3201600146ci.jpg"},{"image":"https:\/\/cdn.philasearch.com\/A00002\/E32016\/3201600146cj.jpg","thumb":"https:\/\/cdn.philasearch.com\/A00002\/E32016\/3201600146cj.jpg"},{"image":"https:\/\/cdn.philasearch.com\/A00002\/E32016\/3201600146ck.jpg","thumb":"https:\/\/cdn.philasearch.com\/A00002\/E32016\/3201600146ck.jpg"},{"image":"https:\/\/cdn.philasearch.com\/A00002\/E32016\/3201600146cl.jpg","thumb":"https:\/\/cdn.philasearch.com\/A00002\/E32016\/3201600146cl.jpg"},{"image":"https:\/\/cdn.philasearch.com\/A00002\/E32016\/3201600146cm.jpg","thumb":"https:\/\/cdn.philasearch.com\/A00002\/E32016\/3201600146cm.jpg"},{"image":"https:\/\/cdn.philasearch.com\/A00002\/E32016\/3201600146cn.jpg","thumb":"https:\/\/cdn.philasearch.com\/A00002\/E32016\/3201600146cn.jpg"},{"image":"https:\/\/cdn.philasearch.com\/A00002\/E32016\/3201600146co.jpg","thumb":"https:\/\/cdn.philasearch.com\/A00002\/E32016\/3201600146co.jpg"},{"image":"https:\/\/cdn.philasearch.com\/A00002\/E32016\/3201600146cp.jpg","thumb":"https:\/\/cdn.philasearch.com\/A00002\/E32016\/3201600146cp.jpg"},{"image":"https:\/\/cdn.philasearch.com\/A00002\/E32016\/3201600146cq.jpg","thumb":"https:\/\/cdn.philasearch.com\/A00002\/E32016\/3201600146cq.jpg"},{"image":"https:\/\/cdn.philasearch.com\/A00002\/E32016\/3201600146cr.jpg","thumb":"https:\/\/cdn.philasearch.com\/A00002\/E32016\/3201600146cr.jpg"},{"image":"https:\/\/cdn.philasearch.com\/A00002\/E32016\/3201600146cs.jpg","thumb":"https:\/\/cdn.philasearch.com\/A00002\/E32016\/3201600146cs.jpg"},{"image":"https:\/\/cdn.philasearch.com\/A00002\/E32016\/3201600146ct.jpg","thumb":"https:\/\/cdn.philasearch.com\/A00002\/E32016\/3201600146ct.jpg"},{"image":"https:\/\/cdn.philasearch.com\/A00002\/E32016\/3201600146cu.jpg","thumb":"https:\/\/cdn.philasearch.com\/A00002\/E32016\/3201600146cu.jpg"},{"image":"https:\/\/cdn.philasearch.com\/A00002\/E32016\/3201600146cv.jpg","thumb":"https:\/\/cdn.philasearch.com\/A00002\/E32016\/3201600146cv.jpg"},{"image":"https:\/\/cdn.philasearch.com\/A00002\/E32016\/3201600146cw.jpg","thumb":"https:\/\/cdn.philasearch.com\/A00002\/E32016\/3201600146cw.jpg"},{"image":"https:\/\/cdn.philasearch.com\/A00002\/E32016\/3201600146cx.jpg","thumb":"https:\/\/cdn.philasearch.com\/A00002\/E32016\/3201600146cx.jpg"},{"image":"https:\/\/cdn.philasearch.com\/A00002\/E32016\/3201600146cy.jpg","thumb":"https:\/\/cdn.philasearch.com\/A00002\/E32016\/3201600146cy.jpg"},{"image":"https:\/\/cdn.philasearch.com\/A00002\/E32016\/3201600146cz.jpg","thumb":"https:\/\/cdn.philasearch.com\/A00002\/E32016\/3201600146cz.jpg"},{"image":"https:\/\/cdn.philasearch.com\/A00002\/E32016\/3201600146da.jpg","thumb":"https:\/\/cdn.philasearch.com\/A00002\/E32016\/3201600146da.jpg"},{"image":"https:\/\/cdn.philasearch.com\/A00002\/E32016\/3201600146db.jpg","thumb":"https:\/\/cdn.philasearch.com\/A00002\/E32016\/3201600146db.jpg"},{"image":"https:\/\/cdn.philasearch.com\/A00002\/E32016\/3201600146dc.jpg","thumb":"https:\/\/cdn.philasearch.com\/A00002\/E32016\/3201600146dc.jpg"},{"image":"https:\/\/cdn.philasearch.com\/A00002\/E32016\/3201600146dd.jpg","thumb":"https:\/\/cdn.philasearch.com\/A00002\/E32016\/3201600146dd.jpg"},{"image":"https:\/\/cdn.philasearch.com\/A00002\/E32016\/3201600146de.jpg","thumb":"https:\/\/cdn.philasearch.com\/A00002\/E32016\/3201600146de.jpg"},{"image":"https:\/\/cdn.philasearch.com\/A00002\/E32016\/3201600146df.jpg","thumb":"https:\/\/cdn.philasearch.com\/A00002\/E32016\/3201600146df.jpg"},{"image":"https:\/\/cdn.philasearch.com\/A00002\/E32016\/3201600146dg.jpg","thumb":"https:\/\/cdn.philasearch.com\/A00002\/E32016\/3201600146dg.jpg"},{"image":"https:\/\/cdn.philasearch.com\/A00002\/E32016\/3201600146dh.jpg","thumb":"https:\/\/cdn.philasearch.com\/A00002\/E32016\/3201600146dh.jpg"},{"image":"https:\/\/cdn.philasearch.com\/A00002\/E32016\/3201600146di.jpg","thumb":"https:\/\/cdn.philasearch.com\/A00002\/E32016\/3201600146di.jpg"},{"image":"https:\/\/cdn.philasearch.com\/A00002\/E32016\/3201600146dj.jpg","thumb":"https:\/\/cdn.philasearch.com\/A00002\/E32016\/3201600146dj.jpg"},{"image":"https:\/\/cdn.philasearch.com\/A00002\/E32016\/3201600146dk.jpg","thumb":"https:\/\/cdn.philasearch.com\/A00002\/E32016\/3201600146dk.jpg"},{"image":"https:\/\/cdn.philasearch.com\/A00002\/E32016\/3201600146dl.jpg","thumb":"https:\/\/cdn.philasearch.com\/A00002\/E32016\/3201600146dl.jpg"},{"image":"https:\/\/cdn.philasearch.com\/A00002\/E32016\/3201600146dm.jpg","thumb":"https:\/\/cdn.philasearch.com\/A00002\/E32016\/3201600146dm.jpg"},{"image":"https:\/\/cdn.philasearch.com\/A00002\/E32016\/3201600146dn.jpg","thumb":"https:\/\/cdn.philasearch.com\/A00002\/E32016\/3201600146dn.jpg"},{"image":"https:\/\/cdn.philasearch.com\/A00002\/E32016\/3201600146do.jpg","thumb":"https:\/\/cdn.philasearch.com\/A00002\/E32016\/3201600146do.jpg"},{"image":"https:\/\/cdn.philasearch.com\/A00002\/E32016\/3201600146dp.jpg","thumb":"https:\/\/cdn.philasearch.com\/A00002\/E32016\/3201600146dp.jpg"},{"image":"https:\/\/cdn.philasearch.com\/A00002\/E32016\/3201600146dq.jpg","thumb":"https:\/\/cdn.philasearch.com\/A00002\/E32016\/3201600146dq.jpg"},{"image":"https:\/\/cdn.philasearch.com\/A00002\/E32016\/3201600146dr.jpg","thumb":"https:\/\/cdn.philasearch.com\/A00002\/E32016\/3201600146dr.jpg"},{"image":"https:\/\/cdn.philasearch.com\/A00002\/E32016\/3201600146ds.jpg","thumb":"https:\/\/cdn.philasearch.com\/A00002\/E32016\/3201600146ds.jpg"},{"image":"https:\/\/cdn.philasearch.com\/A00002\/E32016\/3201600146dt.jpg","thumb":"https:\/\/cdn.philasearch.com\/A00002\/E32016\/3201600146dt.jpg"},{"image":"https:\/\/cdn.philasearch.com\/A00002\/E32016\/3201600146du.jpg","thumb":"https:\/\/cdn.philasearch.com\/A00002\/E32016\/3201600146du.jpg"},{"image":"https:\/\/cdn.philasearch.com\/A00002\/E32016\/3201600146dv.jpg","thumb":"https:\/\/cdn.philasearch.com\/A00002\/E32016\/3201600146dv.jpg"},{"image":"https:\/\/cdn.philasearch.com\/A00002\/E32016\/3201600146dw.jpg","thumb":"https:\/\/cdn.philasearch.com\/A00002\/E32016\/3201600146dw.jpg"},{"image":"https:\/\/cdn.philasearch.com\/A00002\/E32016\/3201600146dx.jpg","thumb":"https:\/\/cdn.philasearch.com\/A00002\/E32016\/3201600146dx.jpg"},{"image":"https:\/\/cdn.philasearch.com\/A00002\/E32016\/3201600146dy.jpg","thumb":"https:\/\/cdn.philasearch.com\/A00002\/E32016\/3201600146dy.jpg"},{"image":"https:\/\/cdn.philasearch.com\/A00002\/E32016\/3201600146dz.jpg","thumb":"https:\/\/cdn.philasearch.com\/A00002\/E32016\/3201600146dz.jpg"},{"image":"https:\/\/cdn.philasearch.com\/A00002\/E32016\/3201600146ea.jpg","thumb":"https:\/\/cdn.philasearch.com\/A00002\/E32016\/3201600146ea.jpg"},{"image":"https:\/\/cdn.philasearch.com\/A00002\/E32016\/3201600146eb.jpg","thumb":"https:\/\/cdn.philasearch.com\/A00002\/E32016\/3201600146eb.jpg"},{"image":"https:\/\/cdn.philasearch.com\/A00002\/E32016\/3201600146ec.jpg","thumb":"https:\/\/cdn.philasearch.com\/A00002\/E32016\/3201600146ec.jpg"},{"image":"https:\/\/cdn.philasearch.com\/A00002\/E32016\/3201600146ed.jpg","thumb":"https:\/\/cdn.philasearch.com\/A00002\/E32016\/3201600146ed.jpg"},{"image":"https:\/\/cdn.philasearch.com\/A00002\/E32016\/3201600146ee.jpg","thumb":"https:\/\/cdn.philasearch.com\/A00002\/E32016\/3201600146ee.jpg"},{"image":"https:\/\/cdn.philasearch.com\/A00002\/E32016\/3201600146ef.jpg","thumb":"https:\/\/cdn.philasearch.com\/A00002\/E32016\/3201600146ef.jpg"},{"image":"https:\/\/cdn.philasearch.com\/A00002\/E32016\/3201600146eg.jpg","thumb":"https:\/\/cdn.philasearch.com\/A00002\/E32016\/3201600146eg.jpg"},{"image":"https:\/\/cdn.philasearch.com\/A00002\/E32016\/3201600146eh.jpg","thumb":"https:\/\/cdn.philasearch.com\/A00002\/E32016\/3201600146eh.jpg"},{"image":"https:\/\/cdn.philasearch.com\/A00002\/E32016\/3201600146ei.jpg","thumb":"https:\/\/cdn.philasearch.com\/A00002\/E32016\/3201600146ei.jpg"},{"image":"https:\/\/cdn.philasearch.com\/A00002\/E32016\/3201600146ej.jpg","thumb":"https:\/\/cdn.philasearch.com\/A00002\/E32016\/3201600146ej.jpg"}]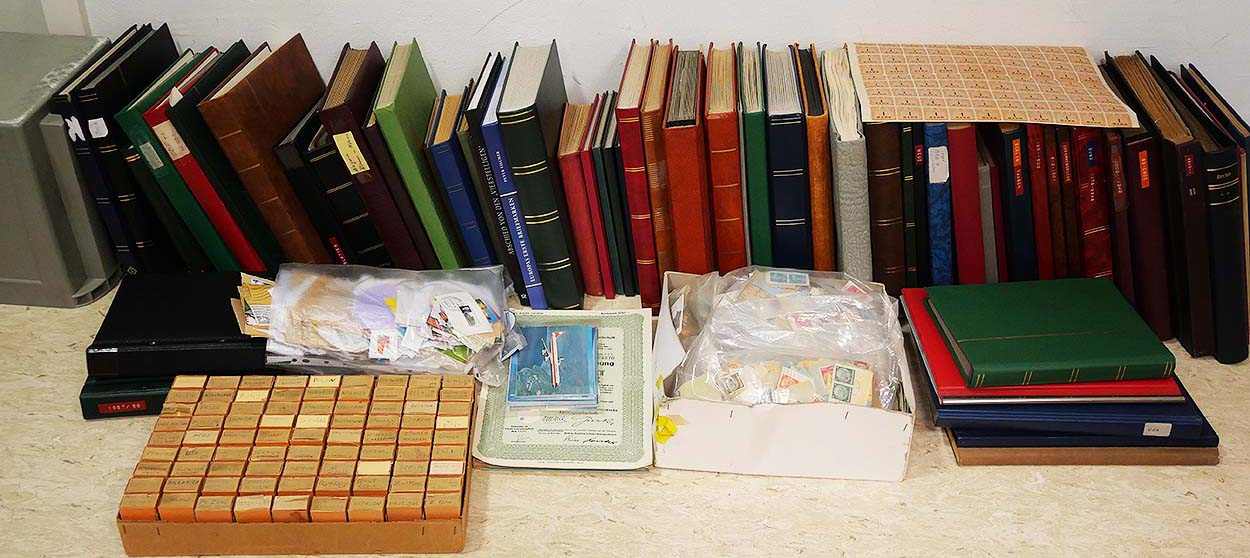 Grossposten aus verschiedenen Sammlernachlässen. Circa 60 Alben, sowie etwas loses Material. Viel Material für das wir keine Zeit haben es aufzuarbeiten. Dabei viele Deutschland mit sehr viel postfrischem Material. Teilweise in Vordruckalben, unter anderem gute DDR Sammlung in mit einigen besseren Blocks, auch andere Deutsche Gebiete ab Altdeutschland. Dazu großer weltweiter Bestand aus vielen verschiedenen Länder, auch Motive, Blocks, etc. Riesenmenge. Einige Alben jedoch nicht voll bestückt. Dafür andere wieder zum bersten voll. Dazu noch Kiloware und selbstgebastelte Briefmarkensammelbox mit vielen meist gut gefüllten Fächern. Fundgrube für Sammler mit Zeit.

Automatically generated translation:
Large items from different collector's estates. Approximate 60 albums, as well a little loose material. Much material for the we no to be free it work up. Many Germany with lots of mint never hinged material. Partial in illustrated albums, among others good German Demokratic Republik (East Germany) collection in with some better souvenir sheets, also other German areas from Old German States. In addition to it large world-wide inventory from many different countries, also topics, souvenir sheets, and so on shedload. A few albums however not fully stocked. For that other again full to burstingf. In addition to that kilo ware and self-made Briefmarkensammelbox with many mostly good filled Fold. Treasure trove for collector's with time.
Final bidding date:
December 6, 2021
Lots marked with a "D" will be sold using the differential tax system (German §25a UStG.) For buyers within the EU there is a 25% buyers commission on top of the hammer price plus 2 Euro lot fee. The total amount already includes the VAT which will not been shown on the invoice. For buyers outside the EU, the buyers commission remains 18%.